Vote
(Total
6
Votes )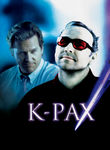 Movies:
K-pax
Director:
Iain Softley
Cast:
Kevin Spacey, Jeff Bridges, Mary McCormack, Alfre Woodard, David Patrick Kelly, Saul Williams, Peter Gerety, Celia Weston, Ajay Naidu, Tracy Vilar, Melanee Murray, John Toles-Bey, Kimberly Scott, Conchata Ferrell, Vincent Laresca
Production Co:
IMF Internationale Medien und Film GmbH & Co. 2. Produktions KG, Intermedia Films, Lawrence Gordon Productions
Genres:
Drama | Sci-Fi
Total:
8
Runtime:
120 min
Country:
United States | Germany
Release Date:
2001
Storyline: Prot is a patient at a mental hospital who claims to be from a far away Planet. His psychiatrist tries to help him, only to begin to doubt his own explanations...